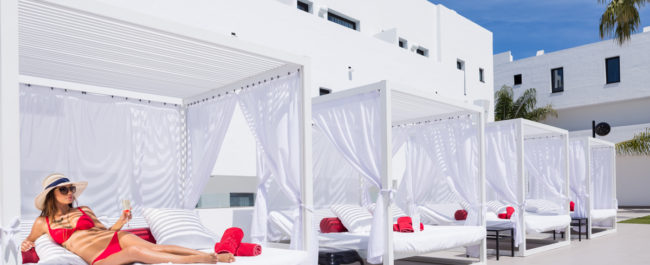 Migjorn Ibiza, collaborator of the MTA Master in Tourism Management in Ibiza.
The second edition of the Master in Tourism Management, returns again to Ibiza thanks to the momentum of Migjorn Ibiza and other hotel groups of the island, determined to support the high specialization of the most important island productive sector such as the tourism sector.
After the success of the first edition, thanks to the Consell Insular d'Eivissa, other hotel groups, the Vicente Juan Guasch Foundation and the Hotel Business Federation of Ibiza and Formentera, together with Migjorn Ibiza; They have collaborated so that this new edition of the MTA Master takes place again on the island of Ibiza.
Alicia Reina, the director of Migjorn Ibiza, assures that it is of vital importance to support these studies, so that in addition to having good teachers, they are experts in the hotel sector and impart innovative content, adapted to the current and changing situation of the tourism sector of the island of Ibiza. Reina, establishes the importance that the continuous training of the workers and collaborators of the tourism sector is very important to offer adequate services and satisfy the clients that visit our hotel season after season. Hence, you have to have an adequate training, as is the case with this MTA Tourism Management Master.
This Master offered as a degree in the Faculty of Economics and Business of the UIB, extends to 2019 and 2020 thanks to the collaboration of our hotel. A great responsibility for Migjorn Ibiza, but also a great satisfaction to be able to know that we work so that the tourist sector of Ibiza will improve over the years, thanks to an adequate and specialized training.