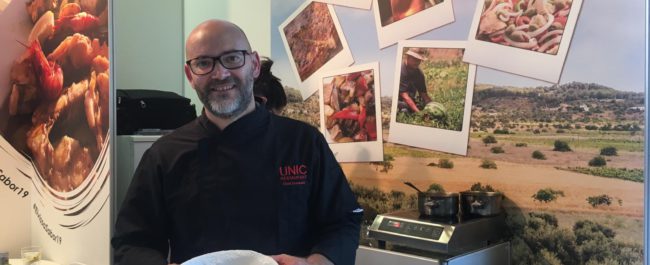 UNIC Restaurant, present at Madrid Fusión on January 28th
The past 28th, 29th and 30th of January took place in Madrid one of the most important gastronomic events in Spain and around the world, the XVII Edition of Madrid Fusion. One of the most important acts regarding the gastronomy of our country and where a great variety of dishes from all corners of Spain are presented.
And Migjorn Ibiza Suites & SPA could not miss this important event together with our UNIC Restaurant. Our chef David Grussaute was present on the day of January 28 in this gastronomic event featuring as a star dish our "Cylinder of Wheat Xeixa and Belly filled with Sea and Squid Field and Black Pig". A delicious dish, with typical air of the island of Ibiza and with careful details. Gastronomy of haute cuisine, of which the most important thing is above all to convey the flavors and the feeling of Ibiza to anyone who would like to try this dish.
In addition to the presence of UNIC Restaurant in Madrid Fusión, we also had other representations of Ibiza with other restaurants in the area. And of course, beyond this, traditional products of the island were also promoted, such as oil, wines or herbs from Ibiza. A perfect way for those who visit the stands of Ibiza, discover products from the area and the delicious and delicious cuisine we have here.
In #MigjornIbiza we are looking forward to the next edition so you can discover much more about our gastronomy and above all, you can taste dishes from our great chef David Grussaute and our UNIC Restaurant.