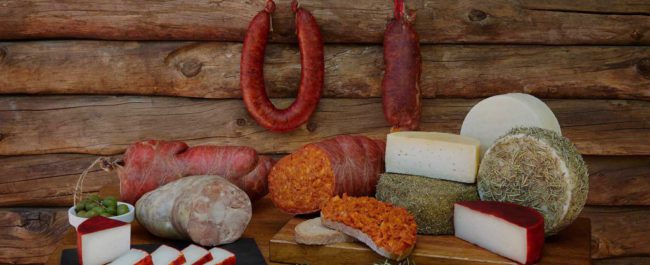 11 iconic products to which Ibizans lay claim
THE AMAZING PRODUCTS FROM IBIZA
Posidonia, Sobrasada….
What really stands out in Ibiza's cuisine is the wealth of locally sourced ingredients in fish stews and other traditional island recipes. At Unic Restaurant, we are firmly committed to these local products, which are the base of our authentic and top-quality culinary offer. As of April 8, the restaurant will again be open to the public, showcasing 11 leading products that are typical of island cuisine:
1-   Ibizan black pig (porc negre eivissenca)
2-   Roast kid
3-   Ibizan goat cheese
4-   Carobs
5-   Posidonia sea grass
6-   John Dory (also known as 'Peter's fish')
7-   Ibizan roja (Red scorpionfish)
8-   Red prawns
9-   Sobrasada (paprika-cured sausage)
10- Ibizan honeys and jams
11- And, of course, Ibizan almonds
From these local products come all sorts of typical recipes which, for anyone visiting the island, shouldn't be missed. Among our top specialities are the following dishes we'd like to draw your attention to:
Borrida de ratjada (Skate stew) http://www.ibizafoodie.com/inicio/receta-borrida-de-ratjada-en-sa-nansa/
Despite being one of the less popular dishes in the Ibicenco recipe book, this is truly delicious. It's made by stewing skate and potatoes in a casserole along with hardboiled eggs, garlic, parsley and chopped almonds.
Bullit de peix y arroz a banda (Fish stew and seafo
od rice with potatoes) 
https://www.illesbalears.travel/recurso-turistico/es/ibiza/producto-de-la-tierra-el-bullit-de-peix
There's little doubt that this is the star of island cuisine, not only for its delicious flavour but also the whole procedure behind it. There are two steps: first, you have some fresh rock fish (grouper, araña or weever), rata de mar, snapper, moray eel, cabracho or scorpionfish) boiled up with Ibizan potatoes and flavoured with a little aioli or saffron. Then, making the most of the broth produced by boiling the fish, rice and cuttlefish are cooked together as a separate dish – a banda or 'on the side'.
Guisat de peix (Fish fry-up) https://www.soloibiza.com/blogs/guisat-de-peix-recetas-de-ibiza/
This begins as a good old-fashioned stir-fry, using potatoes and locally caught fish and is cooked in broth. As a final touch, the dish is enriched with a traditional picada (seasoning/thickener) made from chopped almonds and ñoras (cherry peppers). The main difference between guisat de peix and the bullit de peix is that the guisat dish is hotter and isn't finished off with 'rice on the side'.
Sofrit pages (Country fry-up) https://www.ibizaisla.es/gastronomia/sofrit-pages
Once a dish served only at Christmas, this has become a classic recipe eaten by Ibicencos the whole year round. Farmhouse chicken, lamb and cuts of pork are first boiled up and then added to a garlic fry-up along with with potatoes and a little paprika. Patató (a very small Ibizan potato), sobrasada and botifarró (black sausage) are also added to the mix. This is a really hearty dish, recommended for meat lovers.
Cuinat (Lenten vegetables and pulses) https://www.directoalpaladar.com/recetas-de-legumbres-y-verduras/receta-de-cuinat-guiso-ibicenco-de-viernes-santo-con-verduras-y-legumbres
Cuinat is the most typical and traditional dish of Easter, usually served up on Good Friday. It consists of a stew of vegetables and legumes whose main ingredients are leaves of colleja (bladder campion), chard, peas, green beans, sweet paprika, virgin olive oil, garlic, ñora peppers and mint. It's the ideal dish for any vegetarian worth his or her salt.
Arroz de matanzas (Rice with cuts of pork, literally 'pig slaughter rice')
In addition to fish, we islanders also prize our meat. This dish is perhaps the one in the recipe book that comes up most. It's rice made over an open fire with ribs, sobrasada, chicken, loin and porc negre (black pig), Ibiza's indigenous breed. Although traditionally prepared on the big day of pig slaughter in midwinter, this custom is now dying out, but it's resurfaced in Ibizan gastronomy as one of its most typical and highly prized dishes.
These are some of the recipes that have kept the traditions and gastronomic culture of this captivating and beautiful island alive and well.
Bon profit!