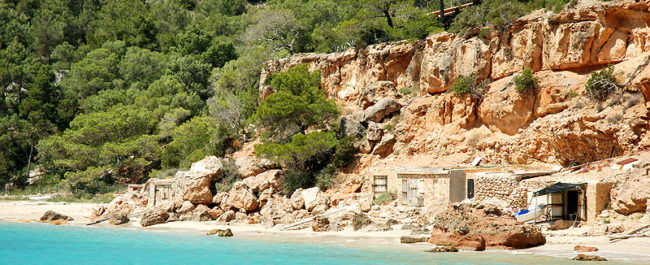 The most beautiful coves of Ibiza, which of them will you visit next season?
The island of Ibiza is one of the most beautiful and amazing destinations that you can visit. It is a place that offers you wonderful places that will not leave you indifferent. And if there is something that can surprise you about Ibiza, it is the large number of coves that it has, of an authentic beauty and in which you can find yourself just visiting them. Do you want to know the most beautiful? In Migjorn Ibiza we recommend the three most beautiful coves on the island. Which of them are you going to visit in this next season?
Cala Gracioneta

La Cala Gracioneta is one of the most beautiful beaches in Ibiza. If you want to visit one of the quietest, wilderness beaches on the island, surrounded by nature, this is the cove you should visit. It has 30 meters in length, it is small but the tranquility and its crystalline waters; they make it one of the most beautiful and spectacular coves in Ibiza.

Cala Salada

North of San Antonio you will find one of the most visited coves, Cala Salada. However, if you go into nature and walk a bit you will find Cala Saladeta. It has a length of 80 meters and is one of the quietest and most difficult to find beaches on the island. A true paradise
Cala Comta

One of the most famous and visited coves of Ibiza is Cala Comta. It has fine sands and crystal clear waters that make it one of the most famous beaches and with an intense color that makes it unique. If you want to visit one of the most visited and famous coves, even from the whole world, this is the ideal one for you.

From Migjorn Ibiza we recommend these three coves, some more known and others less. But do not forget that you have dozens of options to visit. And the island of Ibiza offers a wide variety of beaches and perfect plans to surprise you. Do not miss it!