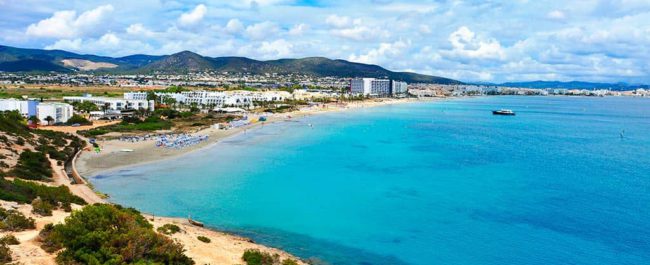 Playa d'en Bossa, much more than an Ibiza beach.
The island of Ibiza is known for its parties, clubs or beach clubs; establishments that make it famous worldwide for its large number of parties with a great reputation and visited by thousands of people throughout the year. However, in addition to being rich in this type of establishment, Ibiza has a large number of natural places such as coves or beaches and even paths for hiking, orientation or any outdoor sport. Something essential that makes it unique, both for its scenic beauty and its great variety of fauna and flora.
But in this article we want to tell you about the great wonder of the beaches of Ibiza. And the island has such a large number of beaches that it does not leave anyone indifferent when it comes to visit, from coves little visited and perfect to dive and admire the beauty of the seabed to beaches completely known and visited by thousands of people and with a great variety of leisure suitable for all types of public.
One of the best known and most visited beaches by tourists is Playa d'en Bossa, located very close to Migjorn Ibiza Suites & SPA. This beach is known for offering a lot of advantages for those who visit it, from restaurants, activities for all kinds of public, beach clubs, among many other things. But in addition to that, it also has other lesser-known advantages that make it unique and make it a perfect place to spend time on your visit to the island.
Playa d'en Bossa has more than 3,000 meters in length, full of variety of leisure for those who visit and want to find any type of activity. It is divided in two parts, the northern part and the southern part. On the one hand, in the northern part you can find a wilder area, with a perfect way to walk and visit the area in a relaxed way. This makes this part of the beach narrower than the southern part. In this area you will find dozens of restaurants, above all family style. An ideal space for those who visit the island with children or family and want to get away a bit from the leisure option that is so present in Ibiza. Stroll, fly the kite, swim in a relaxed way, enjoy with the children the sand and water; all this in a relaxed and calmer environment than on the opposite side.
However, if what you are looking for is to enjoy good music while enjoying a good cocktail or a mojito, or to dance to the music in front of the sea; the southern part of the beach is perfect for you. This south side of Playa d'en Bossa has a lot of leisure that will not leave you indifferent. The beach area is much wider so it offers the opportunity for more people and more possibilities for  varied activities. In this part you will find the best-known beach clubs on the island, as well as several renowned clubs worldwide. Something that makes it unique, since you have the ideal option to be enjoying a great event with internationally famous DJs while you are enjoying a cocktail a few meters from the sea and feeling the breeze of the sea of ​​Ibiza.
Playa d'en Bossa also has an advantage over many other beaches in Ibiza. And is that if you come to this area, you will find hundreds of restaurants of all types, adapted to all kinds of pockets. From thematic or international restaurants with a wide range of prices, to design restaurants and with a more elaborate cuisine with world-renowned chefs. What is clear is that if you come to this part of the island, you can try local products and typical dishes of the island and on the other hand, you can enjoy more affordable food and international touches. Whatever you prefer, you will find it!
In addition, this area of ​​Ibiza is one of the references in water activities and excursions. Many of the boat trips leave from this beach to all parts of the island for you to know it in full, from excursions to Es Vedrà or a full day of travel around the island to know the most hidden places. It is an ideal way to know the magic of Ibiza in its depth and even bathe in the waters of the most remote coves and least visited by tourists.On the other hand, if your idea is to practice water sports and enjoy the waves in Playa d'en Bossa, you're lucky. You will be able to make from diving, in which you will be able to see the magnificent marine fauna and flora that Ibiza has, to realize another type of sports like Kayak or Sand Up Paddle. A fun and different way to enjoy the waters of Ibiza.
And if on the other hand, you prefer other leisure options; you have the opportunity to join the dozens of boat-parties that there are every week on this beach, a perfect way to enjoy this beach that has everything and at the same time, to enjoy the views and the atmosphere of Playa d'en Bossa.
What it is true that this beach has all kinds of activities and ways to have fun, the advantages of Playa d'en Bossa itself are simply the great diversity it offers to all its visitors. From a quiet plan in the northern area of ​​the beach with friends or family, to enjoy the fashionable beach clubs or the best known nightclubs worldwide. An area of ​​Ibiza with great advantages, perfect to visit for its great attractiveness and its great landscape; and at the same time suitable for any plan you have in your visit to the island.
A perfect place, right next to Migjorn Ibiza Suites & SPA! Are you going to miss it?