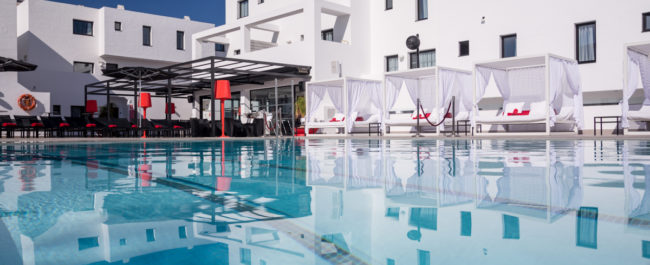 MARIE CLAIRE LOVE MIGJORN IBIZA…
AMAZING MARIE CLAIRE ARTICLE
"MIGJORN IBIZA, FAR MORE THAN A HOTEL"
https://los-imprescindibles.marie-claire.es/migjorn-ibiza-suites-spa-mejor-que-un-hotel/
Don't miss Marie Claire's article, "MIGJORN IBIZA SUITES & SPA, BETTER THAN A HOTEL." Below we reproduce the full interview with our manager Alicia Reina, who set up this wonderful article. Enjoy!
Marie Claire – What's the story about the founding family?
The hotel belongs to an Ibizan family whose business background is in the textile sector, namely a small draper's shop in the old part of Ibiza Town. This began distributing the most emblematic fabrics of Moda Adlib, Ibiza's foremost fashion label. From this, and with a good deal of grit and determination, the family launched itself into the sector of tourist accommodation around 1979 with Migjorn Ibiza Suites & Spa, the first tourist establishment to be built in the ​​Playa den Bossa area. Following a top-down refurbishment in 2009 of all its facilities, Migjorn has been upgraded by the latest generation of the family into one of the island's outstanding tourist establishments in terms of luxury and quality. Continuous improvements have been carried out since then, always geared towards the satisfaction of our clients.
Marie Claire – How would you describe the experience for guests of Migjorn Ibiza Suites & Spa?
Bearing in mind that the priority for our team is always customers and their satisfaction, and that a high proportion of loyal clients return each year, the Migjorn Ibiza experience is a different way of enjoying the White Island, as we indulge our guests with special attention to detail. You could say that Migjorn Ibiza is a small island of relaxation within another island, where client comfort, cuisine and personalized attention are the key elements.
Marie Claire – What kind of clients do you receive?
Our clients are very diverse, predominantly British, Spanish, German, French and Belgian, but we also have many other nationalities. They are generally couples or groups of friends between 20 and 57 years old, usually with high purchasing power, who value the beauty and charm of the island and all it offers. There are certain times of year when we also get families, for whom we are the perfect choice thanks to our kind of suites, where everyone can be accommodated in a comfortable and relaxing way.
Marie Claire – What relaxation services do you provide?
We have an exclusive spa area, our Essence Spa. The 'waters' zone has a harmonious, minimalist design, immersing you in silence and relaxation, and offers the following facilities: three sensation showers, a heated pool, a footbath, a Jacuzzi and a sauna. We also have two massage rooms where body and mind can be soothed and pampered using methods originating all over the world, such as Ayurvedic massage from India, geothermal massage from Japan and bamboo canes from China, plus a range of beauty treatments, including Glamour body treatment with gold foil and glitter.
In addition, we have a small, well-equipped gym, to help you tone up your body in a healthy, harmonious way.
Marie Claire – What about the personalized services on offer?
The personalized services we focus on offering our clients a different, high-level cuisine, VIP lounge areas by the pool, accommodation services and unique attention depending on the type of suite chosen. In each and every case, we are happy to adapt to the needs and requirements of our clients. We also offer a concierge service, advising and informing our clients in a personalized way about the full range of places that can be visited on Ibiza, processing reservations in the VIP zones of restaurants, leisure facilities and on island beaches.
Marie Claire – What's the name of the French chef in charge of your kitchen? Tell us about his experience?
Our chef is David Grussaute (born in Bordeaux, 1972), and with regard to professional career and experience, we can say that he's of French origin and that gastronomy runs in his blood, backed by his own professional trajectory. Starting off in France, where he was part of the prestigious Relais & Château chain (with a Michelin star), he worked in the Comoros Islands (off the coast of East Africa) and in Scotland before moving to Ibiza, gathering extensive experience as a chef in top gastronomic establishments. He has channelled some of the essence of each of these places and experiences into the project which consolidates all his experiences, UNIC RESTAURANT, located in Migjorn Ibiza.
Marie Claire – What produce from the island is used in the kitchens? Some examples of dishes?
Our chef David Grussaute prides himself on sourcing food locally, collaborating with small vegetable growers and livestock farmers, as well as fishermen's associations. While this makes it possible to use invaluable, practically forgotten local produce, Grussaute also has a special technique and know-how which makes the dishes overflow with subtle flavours, surprising and captivating our clients. Among the produce of Ibiza he uses, we would like to draw special attention to sobrasada Ibicenca (cured pork-and-paprika sausage), porc negre (black pig), home-grown carobs and Ibiza prawns.
As for his outstanding dishes, make note of the following: cannelloni filled with poultry and Ibizan red shrimp, cap i pota de porc eivissenc (stewed Ibizan pig's head and foot), foie gras torchon of Ebro Delta duck with dried apricots and Marcona almonds, and a special version of the Ibizan bullit de peix (fish stew).
Marie Claire – How would you define the decoration of the hotel? Its aesthetics, style…  Does it blend in with the environment?
The décor is modern and minimalist, with harmonious colours and shapes that pay respect to the sober, simple style and colours of Ibiza's cube-like architecture. All this is based on a harmonious palette and careful use of lighting, providing a dual concept, the two sides of the same "Night & Day" concept.
Marie Claire – Could you give an example of Ibizan aesthetics applied to the hotel's décor?
The cubic style of the island's traditional farmhouses, the white colour prevailing throughout the whole complex.
Marie Claire – What makes it "better than a hotel"?
We've chosen this as our slogan as it really sums up what we're about. In other words, we feel Migjorn Ibiza Suites & Spa is "better than a hotel" as it combines the advantages offered by a hotel with those of an apartment or en-suite duplex, providing the comprehensive comforts, benefits and virtues of both concepts.
Marie Claire – What are the key points that make it "an island within another island"?
There are two key points which make Migjorn Ibiza an island within another one:
a) First of all, the possibility of having an independent and relaxed zone within the vibrant and lively area of ​​Playa den Bossa, the island's prime tourist and leisure area.
b) And secondly, because this metaphor allows us to point out that there's not just one Ibiza, an island of partying and nightlife, but there are many more facets to be discovered and enjoyed in spaces such as ours, where there's room for the integration and diversity of many kinds of clients, united by the passion and love for the island which is our guiding precept.