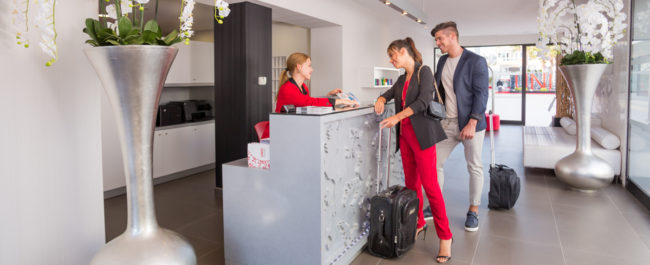 11 REASONS FOR CHOOSING A HOTEL(OR MORE THAN A HOTEL)
HOW TO CHOOSE WHERE TO STAY ON HOLIDAYS?
Who doesn't want to travel, discover new places and have new experiences that leave the daily routine far behind? 99.9% of those asked would reply, without a doubt, that they'd rather travel than stay at home. So … once we've made the decision to head off into the blue, the first question that comes to mind is, Where shall I stay? You've been dreaming of the perfect vacation for a whole year, and you definitely don't want to make a mistake, have an awful time, end up in a nightmare situation. When choosing somewhere to stay, there are three key factors that help us make the right decision: comfort (we want to be more comfortable than at home), security (we want to go somewhere completely safe, avoiding unnecessary risks), and location (we look for the perfect spot, close to things which awaken our desire to travel – night- or daytime entertainment, great food, etc.). That's when the next question comes up: shall I stay in a hotel or in a tourist apartment? In this post we want to share with you the eleven main reasons for choosing a proper touristic establishment (hotel, accredited tourist apartment, hostel) rather than an apartment converted to tourist use (the so-called tourist apartments). I hope these eleven reasons will help you make the right decision. So, please take proper note of the advantages of staying in a fully-fledged touristic establishment, which are as follows:
SECURITY.

The security of a touristic establishment is far greater as it has to meet strict security and hygiene requirements guaranteeing the safety and security of the clients who stay there. These establishments are totally legal, places where the client is guaranteed that he or she will not be the object of any kind of scam, as can occur in residential housing for touristic use which is advertised but turns out not to exist. Hoteliers belonging to the regulated hotel sector cannot 'take you for a ride', as they have a plaque which rates them on the front door, complaint forms available to clients and the obligation to inform the authorities about who's staying, thereby guaranteeing the safety of the country, the city and of other guests.
SOCIAL WEALTH. Touristic establishments generate wealth for the resort, creating fully legal jobs which make the destination and its inhabitants better off.
CONTRIBUTION TO RESORT SUSTAINABILITY. Touristic establishments contribute financially to the sustainability of the local society: social security, education, infrastructure, etc.

RESPECT FOR THE ENVIRONMENT AND THE DESTINATION'S ECOSYSTEM

. Touristic establishments have environmental controls that allow this kind of business to maintain a proper balance with their surroundings, respect the destination's ecosystem, and safeguard the delicate equilibrium between the human and natural worlds. This is a regulated, strictly controlled activity which, unlike residential housing for tourist use, does not tax the destination's capacity beyond its limits, as there is a maximum number of places which is fully controlled, giving legal certainty to all users.

COEXISTENCE AND SOCIAL HARMONY WITH LOCAL RESIDENTS

. Touristic establishments respect and make possible the coexistence of tourists with the local population, ensuring a relaxed and pleasant social ambience.

PROFESSIONALISM OF THE STAFF ATTENDING YOU

. Touristic establishments offer you experiences and services in a professional manner, with a properly trained and prepared team. When you find yourself in the hands of true professionals, it's much easier to end up having the perfect holiday.

BREAKFASTS AND MEALS THAT PAMPER YOU

. Breakfast buffets are clearly a compelling reason for choosing a hotel. The simple truth is that food is crucial when we travel, and the range on offer in hotels is ideal, as you don't have to waste time shopping and preparing food, not to mention washing up and putting away after meals. You can choose the catering option that best suits you: bed and breakfast (our favourite), half board or full board – just as you want.

ADDITIONAL SERVICES AND DETAILS THAT MAKE YOU FEEL SPECIAL

. Imagine taking a refreshing dip in one of our pools, or having a relaxing massage in the spa … Moreover, if you opt for a hotel you don't need to pack shampoo or other toilet products, as in your bathroom you'll find all the necessary extras for your personal hygiene.

24-HOUR ATTENTION

. You will have at your disposal someone at reception to look after you, ready to assist in the event of anything unforeseen, 24 hours a day, seven days a week. Forget empty porter's booths at night and noisy apartment blocks with no one to maintain order or lend a hand. When you're in a foreign country, and if you also have problems with the language, you can enjoy the attention of a friendly receptionist willing to help out with any incident or problem.

PERFECT AND PERSONALIZED OFFERS

. The days when staying in a hotel was out of the question for those on a tight budget have long gone. Nowadays hotels are accessible to one and all with prices and rates that are far more affordable. But to guarantee the very best price, we advise booking directly on the hotel's website, where you not only have better offers, but can make the most of a whole series of advantages that wouldn't otherwise show up. On travel websites you may find yourself presented with cheaper options – it's happened to all of us – but only when you've booked, without taking into account the price-quality ratio, do you find you've been 'taken for a ride'. Then it is you realize why the other option was a little more expensive … Quality usually pays.

SERVICE: EVERYTHING IS CLEAN AND FIXED

. Forget about making the bed, or fixing food, let alone cleaning the room. A fully accredited touristic establishment is by far the best option for relaxing fully, because you don't have to do a thing. You simply have to concentrate on something very basic: enjoying a perfect holiday.
So, before making your decision about where to stay, bear in mind all the pros and cons and make the decision that best suits your requirements. Making a mistake is not an option: it's your holiday, and we all want our vacation to be perfect.
Many thanks for your time, and until the next post.