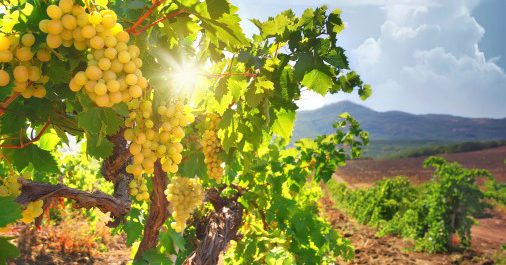 Wines and wineries on Ibiza
While Ibiza's modest size might lead many to imagine it doesn't produce its own wine, the truth is that local wines of character and body can be encountered which add a final touch to the Ibiza experience, bringing visitors closer to its roots and traditions.
The winemaking tradition on Ibiza, like everywhere else in the Mediterranean, dates back to the remote past, bearing witness to the historical imprint left by earlier cultures such as the Phoenicians, Greeks, Carthaginians and Romans.
For much of its history vines were grown for consumption within the household, a tradition transmitted from parents to their offspring until now. But distribution and marketing of Ibizan wines is currently being promoted so that we can all have a proper taste of them.
The leading local grape varieties are Monastrell and Garnacha for red, and Malvasia (grec in Ibicenco) for white. But apart from these, other varieties have been introduced of late which have allowed the quality and range of island wines to be improved. These wines go extremely well with Ibiza's traditional cuisine, above all seafood, and are notable for their rich, aromatic bouquets and soft, structured body, and are marketed under the denomination of 'Vinos de la Tierra', i.e. Wines of the Territory (Island).
The first wineries on Ibiza were established in the 1990s, since when they have striven to improve the quality of Pityusan wines, whose production, albeit limited, is of exceptional quality.
We will now provide a few details regarding the best-known wineries (bodegas) on the island of Ibiza:
Can Rich Winery
This grew out of Bodegas Can Rich, established in 1997 not far from Sant Antoni. They produce organic and sparkling wines alongside a range of spirits and liqueurs. Their recently planted lands include four hectares of vineyards and 3,000 olive trees in the Ses Salines Nature Reserve while their red wine is perhaps the best known on Ibiza. Can Rich wines can be easily found at supermarkets throughout the island and even at the airport (although at a much higher price).
Can Maymó Winery
Located in the north of Ibiza, San Mateo, this small winery has retained its family character (Costa y Torres). Its venerable vineyards in San Mateo boast native island varieties, but have been given a fresh lease of life by incorporating new ones (Tempranillo, Merlot and Syrah). In general, these are complex, elegant and distinctive wines with their own personality, typical of the climate and terrain of Ibiza.
The Sa Cova Winery, the oldest of all. 
It is also located in San Mateo. Its vineyards cover ​​about nine hectares in which are grown Tempranillo, Monastrell, Syrah, Malvasia and Muscat varieties. The winery has 50% American and French oak barrels producing red white and rosé. Sa Cova was a trailblazer in terms of investigating how to improve the traditional farmhouse 'brew' known as vino payés.
It is committed to producing wines using Ibiza's native Monastrell grapes. The decision was made to replant old vines (40–60 years old), "own rooted" instead of grafted onto rootstocks, with the aim of absorbing the full essence of the Pityusan soil, ensuring that their age guaranteed the full concentration of flavours and aromas. Totem's wines undergo various aging and blending processes, but are always crafted by hand.
The wines of Ibiza are among the best-kept treasures in an island full of ancient traditions and charming customs. So while you're over here, don't miss the opportunity to sample our wonderful wines. A truly unforgettable experience.
Salut i força al canut!
'Good health and strength to your purse/balls!'
(purses were formerly made from the scrotums of bulls)