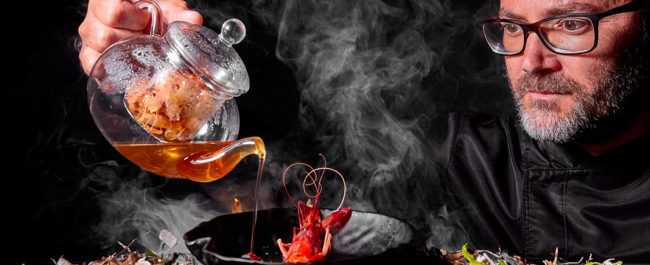 IBIZA, GASTRONOMIC PARADISE
DINNING WELL IN IBIZA 
GASTRONOMIC PARADISE
Ibiza's cuisine is a true reflection of the island – its raw materials, its culture, its identity. Our traditional recipes are based on making the most of home-grown and locally sourced produce, as well as on the gastronomic heritage of the various peoples and cultures that have passed through during the course of history. First-rate  ingredients and dishes such as guisat de peix, bullit de peix and sofrit pagés [1] , to mention just a few, will delight the most demanding of plates and guarantee that you fall completely under the island's spell.
In this month's post, after giving some advice about choosing the right place to dine out on Ibiza, we offer a fascinating interview with David Grussaute, head chef of Unic Restaurant, which appeared in the 2019 Gastronomy special of the Diario de Ibiza. Don't miss it!
Selecting the right restaurant is a far from easy task, so we'd like to offer you a few tips to ensure you dine out properly on the White Island. Here goes:
1 – Available budget. To avoid unpleasant surprises, it's important to determine the amount you and your fellow diners have at your disposal.
2 – Well-informed recommendations. You can't just take pot luck – best left for other occasions. It's essential to have a recommendation from a friend or acquaintance, or from other customers who have shared their experiences online via opinion forums (we all know the most famous).
3 – Special recognition or distinction. It's important, but not essential, to know whether the establishment has any official rating (Michelin, Repsol Guide, Tripadvisor, etc.).
4 – Type of event being celebrated. A romantic dinner isn't the same as a meal with friends or a company dinner. Each occasion requires its own particular venue.
5 – Quality of cuisine and value for money. These are absolutely essential, and if the ingredients are locally sourced and of top quality, so much the better.
6 – Possibility of booking and waiting times. Depending on the kind of dinner or event you have in mind, it might be useful to find out if it's possible to make a reservation, and also waiting times. No one likes being in a queue for an unreasonable length of time, whether it's lunch or dinner.
7 – The restaurant décor and interior space. This might seem unimportant, but good décor and a relaxing, uncluttered interior can make the experience just perfect.
We hope these tips will help you to make the right choice. But in case you still have doubts, don't miss the following interview with the head chef of Unic restaurant, David Grussaute, from the Gastronomy special of the Diario de Ibiza:
https://www.unicrestaurantibiza.com/
What new dishes are being offered on the UNIC menu this season?
Bearing in mind that local produce is the mainstay of our culinary offer as well as one of the key attractions of this restaurant, our novelty lies in reworking core ingredients and reinterpreting traditional recipes in fresh and exciting new ways. This is how we hope to stand out from the crowd and create unique culinary experiences. To take one example, we've begun working with Posidonia sea-grass, which can be found on our taster menu, or to take another, we have our own special version of sofrit pagés.
You still put your faith in creativity and using local produce as a base. Why?
Indeed, creativity lies at the very heart of our project, which involves the challenge of showcasing local ingredients in a highly personal vision of gourmet cuisine. So what we do at UNIC can be found here and here only. It's important for our diners to know that what they're savouring has been created by someone who delights in cooking and finding new ways to bring the fruits of the local soil together in a meaningful and winning combination.
What dishes would you highlight from your menu?
Among our classics I'd like to draw attention to the following dishes: cannelloni stuffed with chicken and red prawns, cap i pota de porc eivissenc (braised head and trotters of Ibizan pig), foie cylinder of Ebro delta duck with dried apricots and Marcona almonds, a special version of the Ibicenco bullit de peix. As for novelties, the outstanding dishes which form part of our taster menu include the "Ses cabretes" goat's cheese board, the neck of tender lamb, and the Ibiza Posidonia broth (dashi) – these are the ones which most surprise and delight our customers.
What has changed in the UNIC restaurant in recent years. How has it evolved?
I started my career as head chef at Migjorn Ibiza ten years ago and have been adapting our exclusive offer ever since to match the requirements of the hotel. In recent years the hotel management decided to change our offer and now are firm advocates of a unique culinary concept. This has been an enormous pleasure for me, seeing clients recognize and appreciate a job carried through with utter passion and dedication to good food and the island. At the end of the day, our goal is simply to enjoy making sure that our guests enjoy themselves.
How do you see the future of restaurants in Ibiza?
Ibiza's restaurant sector is in excellent health at the moment, although I believe government institutions and the media should be promoting local produce as well as those who seek to give it a special role. In this sense, Ibiza is a culinary destination that could become very strong if we all work together and head in the right direction, opening the way to a future in which the island is more open to tourism the whole year round.
_______________________________________________________________________________________
[1] Guisat de peix – fish stew; bullit de peix – a two-parter: boiled fish and potatoes topped with a light alioli sauce followed by rice made with the fish broth; sofrit pagés – country fry-up, featuring various cuts of meat.