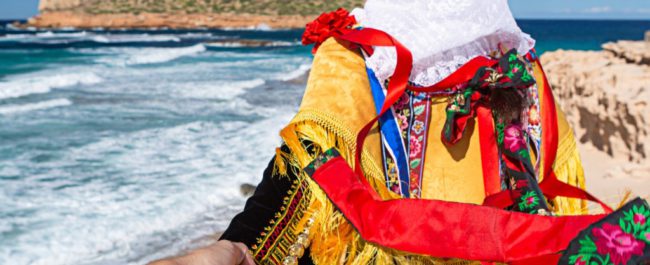 UNIC TRADITION AND AVANT-GARDE
History, Landscape and Local Produce
Three key Ibizan ingredients in Unic's distinctive gourmet offer
David Grussaute, the chef at Migjorn Ibiza Suites & Spa restaurant, reveals the fascinating story behind Platja d'en Bossa, a fishing harbour right next to extensive​​ kitchen gardens and a place of special natural beauty. His new gourmet menu is based on a quest to find the authentic Ibizan roots of his ingredients, and local producers turn out to be the real stars.
Ibiza, June 2021. The Unic restaurant kicks off the 2021 season with a gourmet menu that pays tribute to Ibizan history and local produce. Chef David Grussaute offers us an authentic range of dishes highlighting ingredients which have been neglected in recent years, while evoking the fascinating story of Platja d'en Bossa. Although known these days as a leading tourist hub, it was once among Ibiza's most prized crop-growing areas, as well as a key fishing harbour.
According to our chef, "the restaurant lies in a truly amazing spot, Platja d'en Bossa, with Dalt Vila's Renaissance walls on one side and the pre-18th century watch-tower of Es Carregador on the other. We look straight out onto a vital Mediterranean sea lane, and the area boasts not only Sa Xanga, a key element in the island's traditional fishing industry, but also the foremost harbour for salt in former times. As well as this, the area around the restaurant contained some of the most productive market gardens in Ibiza. With such a priceless heritage on our very doorstep, the history of Platja d'en Bossa is the overriding theme in our menu for the current season, 2021."
Starting from his base at the peaceful oasis of Migjorn Ibiza Suites & Spa, David Grussaute focused his attention during the recent lockdown on working with locally sourced ingredients and making the most of his exceptional natural surroundings. This led him down some surprising historical and culinary byways, reaching far back into the remote past, long before the arrival of tourism and the construction of large hotels.
The chef has been fossicking out hidden facts to demonstrate that Platja d'en Bossa, world-famous for its summer tourist scene, was once a very different place: older Ibicencos recall that it was richly endowed with market gardens, water pumps, irrigation channels, reservoirs, the occasional mule-powered waterwheel, and a network of footpaths used each day by Ibicencos who worked the fields and harvested the sea. It was an area where fishermen made full use of reeds and canes to fashion traps for various kinds of fish, lobsters and moray eels. Platja d'en Bossa also had its own extensive plantation of tamarinds.
Starting from these key markers, the menu sets out to recall the essence of Platja d'en Bossa through dishes like moray eel, tamarind and local wine, which makes use of every part of the eel, including the tail, head and bones, in a sauce involving Ibizan red wine and a hint of tamarind. The flesh is transformed into meatballs while the skin, after a process of cleaning, drying and frying, is stuffed into peppers. What the diner finally experiences is the result of a creative process respecting all these marvellous ingredients, moray eel belly sautéed with young garlic.
Fresh fish, complete with the Peix Nostrum label (local catch), forms a common thread in the menu, and another key dish is based on tuna, paying tribute to the importance in the old days of the fishermen of Sa Xanga. This little cove lies at the foot of the Torre des Carregador or Sal Rossa (the Tower of Loading or of Red Salt), where a keen lookout was kept for the lateen sails of Turkish and Berber corsairs on the horizon.
According to the Enciclopèdia d'Eivissa i Formentera, xanga (pronounced 'changa') is the name of the wooden benches on which they would cut up the tuna caught in the local almadraba (where the fish are funnelled into nets). Ibiza's most important almadraba took place each year off Sa Xanga, and the salted catch was stored here along with the fishermen's gear and tackle. As well as this miniature industry, Sa Xanga was also a salt-loading harbour where, prior to the building of the new dock at Sa Canal (next to Salinas beach), ships would load up with salt destined for distant ports on the Atlantic.
With this as a reference point, David Grussaute now offers a tuna tartare seasoned with a sorbet made from field mustard, highlighting a recent initiative of the Ibizan Fishermen's Association, who have revived the ancient custom of tuna fishing, bringing in a catch of the very best quality.
The local supplier is Pardalet fishmonger's, who work closely with the association and also supply gerret or picarel, another species with a long and noble tradition in Ibizan gastronomy, prized by Ibicencos but found in very few local restaurants. To highlight the Ibizan roots of his menu, David Grussaute proposes another delicious dish, gerret, garum and escalivada (vegetables cooked in hot ashes), combining a picarel fritter (buñuelo) with an escalivada tower to bring out the full flavour.
Another of the menu's star dishes is red prawn dashi Posidonia, with which he hopes to raise awareness about the importance of protecting this vital seagrass (whose offshore meadows are a UNESCO World Heritage site). Posidonia guarantees the gin-clear purity of our waters and provides a habitat for countless marine species. Diners can enjoy a sea-themed consommé made from Posidonia and "katsuobashi" made with red shrimps (heads and bodies), served on a base of prawn consommé, i.e. raw prawns in seaweed and brine.
Composed of 13 stages representing the hotel's immediate environment in past times, David Grussautte conjures up the almond, carob, and fig orchards, as well as the vines that took pride of place among the farms and fields of the 'pine-tree island'. All these ingredients are combined in an intimate 'dialogue' of flavours, bringing together almond and farmhouse chicken, sea cucumber, black pig (porc negre) and bitter oranges (citró de matançes), plus a special dessert, Pityuses, island of pines, which was inspired by one of the chef's country walks, making full use of pinecones, bark, pine honey and pine nuts in a truly mouth-watering combination.
Honey is another outstanding local product which is now an integral part of David's new menu, using different textures and preparations served up with dried wild flowers, presented in an artwork designed by Ibiza's leading potter, Antoni Ribas Costa ('Toniet'): a series of miniature beehives produced exclusively for Unic. These not only hold the dessert but also highlight the important work of beekeepers and artisans all across the island.
David Grussautte's version of flaó, a cheese-and-spearmint tart of medieval origin found only on Ibiza, is another way of showing his deep respect for the island's age-old flavours and traditions, with a creative version based around the original recipe and ingredients.
Snails from a local farm, Xeixa wheat, Ses Cabretes cheeses and porc negre feature in other dishes in which the gastronomic idea depends largely on the excellence of the native product. Suppliers include Pescados Pardalet, Carnes Can Ros, Ecofeixes, Quesería Ses Cabretes, Can Malacosta, Caragolet Pitiús, and Sanima Herbs. Customers can also sample Ibizan extra-virgin olive oils produced by Joan Bonet at Can Guasch, wines from Can Maymó, Can Rich and Ibizkus wineries, as well as wild herbs from Aniseta. The bread, made to David's own recipe, is baked in the Planells bakery.
The chef recognizes that his 2021 menu "isn't commercially driven, but rather a gourmet offer defined by uniqueness and genuine quality. We want our customers to be satisfied with an menu that is honest and where they will find produce only sampled here on Ibiza, as it comes from small local producers who bring us veritable treasures. Furthermore, it's a gourmet offer which is fully integrated and related to our immediate environment. Our goal is for diners to enjoy a unique experience, in which they learn via each and every dish a little more about the amazing history, unique produce and ancient traditions of an island with which they are sure to fall in love."
(Bordeaux, 1972). Born into a family with a notable restaurant tradition, the profession is in his blood, backed by a strong background in the sector. He received his professional training in France at the Bordeaux-Talence Hospitality School and was part of the team of the prestigious chain of Relais & Chateaux (one Michelin star), before moving on to the Comoros Islands (East Africa), Scotland, and finally Ibiza, where he has been in charge of the Unic restaurant now for more than a decade.
offers one hundred suite-style apartments, distributed over 5 blocks or villas, which provide independence and comfort for families looking for tranquillity and a handy beach. Alicia Reina and José Riera are the entrepreneurial Ibizan couple who have opted to create an oasis right in the heart of Platja d'en Bossa, on land owned by the family where they offer authentic experiences that contain the essence of what drew the tourists who stayed at the area's very first hotel. That establishment was run for many years by Alicia's father, and is precious for its childhood memories. As for José, Sa Xanga is a place which brings back the games and adventures of his own childhood.